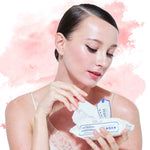 Shoutout to the everyday women going about setting the world straight. What with career and kids, you are my daily inspiration to strive further in life. Work hard and play harder right? ;)


So I bet your day is busier than ever. From home to school runs to work and back again, the everyday grind will take a toll on even the strongest of us. But that doesn't mean it should hold us down.

Take time out from your hectic schedule and have some me-time in between. Whether it's for prayers, self reflection or just to power nap, do yourself a huge favour and wind down for a few minutes every now and then. Taking care of your mental state of mind and nourishing your soul are just as important as looking after yourself physically.

Getting a feet or shoulder massage at midday sounds like a plan too. But it's not like you'll be running to the spa for hammam midweek, and certainly not in the middle of the day just for body cleansing. Perhaps then taking a break to refresh your face will help you feel much better before continuing with your chores.

But no time to give your face a gentle breather in between? Then all you need is a simple and effective face wipe! It should be efficient enough to remove, from the toughest makeup to pollutants, and also able to provide antioxidant and skin replenishing properties for us on-the-go.

That's why such facial wipes need to come with beneficial products such as hyaluronic acid. A single sheet does not only cleanse but refreshes the skin as well, and this is crucial especially when you're chasing time.

As an antioxidant, hyaluronic acid is not just a trend but it definitely enhances moisture content. It will revitalise skin's outer layer, which in turn will improve the appearance of fine lines and makes the skin look smoother and hydrated.


If you're interested in such convenience, why not try the Avenys Express Makeup Remover. It's also fragrance free and non irritating to the skin and eyes. And for bonus, the wipes are also infused with calendula extract which promotes wound healing and reduces inflammation. Tough on dirt, yet soft enough to care for your skin!


xoxo,
Aleeya


Click the links below to shop now!


tags: #beautywithoutmakeup #dangerouslyeffective #makeupremover #avenys
#skincare